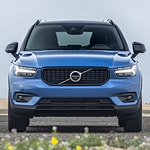 In the world of luxury subcompact SUVs, we at Momentum Volvo Cars think that Volvo has a clear foothold as one of the market's most innovative and successful manufacturers. This is made clear when one takes a look at the Volvo XC40. This vehicle was made with usefulness and style in mind.
The Volvo XC40 comes with a number of exterior features. Some of these help increase practicality and efficiency, some increase the vehicle's personality, and a few do both. One of the multipurpose features we think is worth mentioning are the vehicle's illuminated door handles, which make the front door handles easy to find while also adding a futuristic welcoming touch to the overall vehicle. Another feature that's worth talking about is the standard rain sensor - this technology will turn on your wipers for you at the first sign of rain!
To explore these features and learn more, come test drive the XC40 yourself here at Momentum Volvo Cars.